If you didn't know, BuilderAll just re-launched their software and created a new automated funnel for the business opportunity…
This got me thinking of a new experiment…
Can I make money online with affiliate marketing by using this funnel strategy?
I've already been using my own funnel with the No Paycheck Needed Quickstart System to promote BuilderAll…
That has been working well for me but its not automated like this new funnel…
But, can this new automated funnel generate better results for me than what I created?
That is what I intend to find out…

It's been a few years since my last experiment and this seems like a great opportunity to put this strategy to the test…
Today I'm going to lay out the elements of the experiment and follow the quick start process from BuilderAll…
What I'm Using For This Experiment
Element 1
This experiment requires that I have a BuilderAll Business account so that is done…
Element 2
According to the quick start steps, I need a domain to get better results with my affiliate links…
Element 3
The training also provides videos to use in Facebook posts so I will use my page here…
Element 4
The last step shows several traffic methods and since I love Solo Ads, I'll be using that as my paid traffic source…
Element 5
Finally, I'm using ClickMagick to track all of my clicks and conversions for the solo ads…
This is not part of the BuilderAll training and will be the only difference in my experiment…
Setting Up The BuilderAll Experiment
So there are five steps presented in the BuilderAll Business Quick Start area…
Step 1: Purchasing The Domain & Connecting Domain
The first step of the Quick Start recommends buying and connecting a domain to prevent blocking of your affiliate link…
Buying a domain in BuilderAll is a new feature so I was excited to try out the process…
After thinking of some possible domains I settle for mybuilderallbizop.com…
The process is smooth for buying a domain and the price is fair…
Once I'm back to the Quick Start page I'm able to connect the domain…
It takes about 30 minutes or so to update everything and I'm ready to proceed to step 2…
Step 1 complete!
Step 2: Get My Link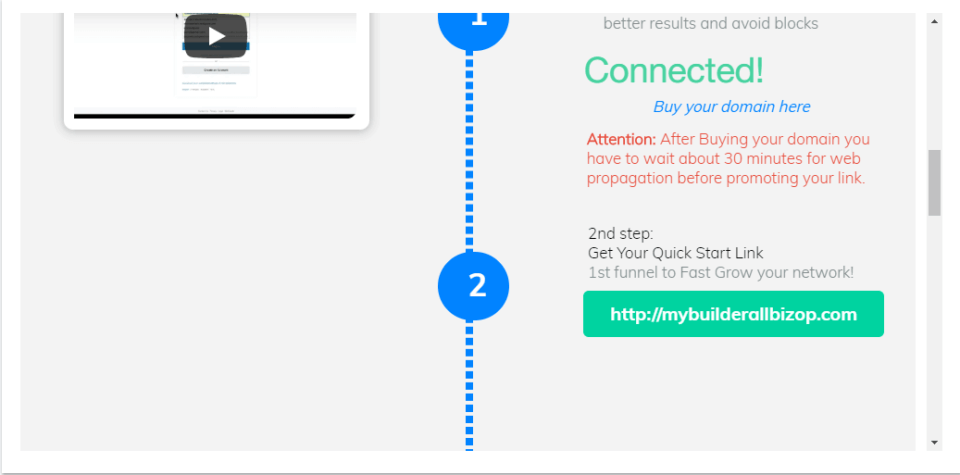 After refreshing the Quick Start page I can see that my long, ugly affiliate link is now my domain name…
With a simple click the URL is copied to my computer clip board…
I test out the link to confirm its all working and my dummy lead shows up in my list of leads…
Step 2 complete!
Step 3: Download Promo Videos
Now it's time to use the promotional items BuilderAll supplies…
I download all four videos to my computer like the training video instructs…
These videos will be used on my Facebook page…
Step 3 complete!
Step 4: Post to Facebook
Now that I have downloaded the videos I choose one of them to use in my post…
After going to my Facebook page I create a new post and upload the video…
There isn't much guidance from the training video on what to say so I try to keep is short and sweet…
I will post a video per week to see if one of them gets a better response than the others…
To be honest I'm not counting on a good response or any sales from using this free traffic method…
However, step 4 is done!
Step 5: Choose A Paid Traffic Method
Ok so technically step 5 is to learn more about BuilderAll, but there are also several paid traffic trainings…
I'm going with Solo ads because I believe its the best shot for converting people into the BuilderAll Business opportunity…
I decide to use my boy Stephen De Jager at Crazy Good Traffic and pay for 300 Tier 1 clicks…
Next, I set up a link inside of ClickMagick that allows me to add a special click ID to each visitor…
With this software I'm able to really measure how well the campaign will do…
I'll be able to:
See that all 300 clicks come through…
Monitor the conversion rate using special pixel code I installed…
See the quality of traffic and all of the countries they are coming from…
With the click ID I can look up leads from BuilderAll and see their click history…
Finally, I will have Stephen help me create the email to send out for maximum impact…
Will I Make Money Online With Affiliate Marketing By Using This BuilderAll Strategy?
My initial feeling about using this Quick Start strategy is it's missing some important elements…
Items like Facebook post swipe files or paid traffic swipe files to use when sending traffic to the funnel…
As an experienced affiliate marketer I can fill in those gaps…
But, newbies may find it hard to make money online with affiliate marketing if critical pieces are missing…
I'll hold out judgement until I complete the experiment in 30 days…
I will post my results including how many leads generated, how many sales generated, and which traffic source did better…
My goal is to at least break even on my solo ad spend…
So, look for a follow up post to this and find out the results of this new experiment!
Let me know in the comments what your predictions are!