In August of 2017 I was introduced to the BuilderAll affiliate program by my mentor…
He started making some really good recurring income promoting BuilderAll…
I was already promoting ClickFunnels, but I saw the potential that the BuilderAll affiliate program offered and jumped on-board ASAP…
Now a year later I've had some ups and downs as an affiliate (more on that later)…
I held off on reviewing this affiliate program from BuilderAll because there's been several changes recently, including price changes…
Like any business, BuilderAll went through some growing pains over the last year…
Now that things are stable and don't look to change anytime soon I feel confident in writing this review…

How The BuilderAll Affiliate Program Works
BuilderAll offers a 2-tier affiliate program they call the BuilderAll Business…
Now, to be clear, this program is not an MLM…
In order to become a BuilderAll affiliate you will have to join the $49.90 / month plan…
This gives you access to BuilderAll's full suite of tools and the BuilderAll Business area…
Each time you sell the software you make 100% commissions within 5 days on the first month's sale …
Then, you make a recurring 30% commission for each additional month…
If you sell someone the BuilderAll Business plan, you not only get the 100% and 30% commissions going forward, the buyer become a second tier affiliate under you…
This means that any sales they make will give you an additional 30% in commissions each month!
It really is a powerful commissions structure that makes the BuilderAll affiliate program unique…
What's In The BuilderAll Business Affiliate Area
Now that you know about the business opportunity here is what is part of the BuilderAll Business area…
Several areas are brand new and showed up after the July 27th relaunch so I haven't spent time with some of these…
Dashboard
This is the main dashboard of the affiliate area and it provides an overview of how you're doing…
You can go here to grab your default affiliate link…
Send a message to your BuilderAll Sponsor (hopefully me!)…
Or, get a quick glance at your leads and an overview of your earnings…
There is also a link to download the BuilderAll Business app for IOS and Android…
The app is pretty nice and is great when you want to see your stats on the go…
Quick Start
The Quick Start is a new step by step process that gets you started with the new automatic Leveraged Affiliate funnel from BuilderAll…
Step 1 has you setting up a domain (which can now be purchased directly inside of BuilderAll) and connect it to the affiliate area…
This will become the primary URL for all of your affiliate links…
Step 2 gives you the primary affiliate link using your new domain…
This is the main automatic Leveraged Affiliate funnel created by BuilderAll…
The benefit to this is it saves you a ton of work having to build your own funnel…
The downside is you can't customize it and have no control over it…
Step 3 introduces you a set of videos you can download and use on different social media platforms…
Step 4 guides you on how to create your social media post and promote your new funnel…
Finally, Step 5 takes you to About BuilderAll section to learn more about the product you are promoting…
There are then some trainings on various paid advertising methods to use…
I personally don't believe that following this method will produce results because its going to burn out the marketplace quickly…
Time will tell whether I'm right or not…
About BuilderAll Business
This section have about 15 short videos that cover various topics or questions related to the BuilderAll affiliate program…
It also teaches new affiliates about some of the terms to use when selling the BuilderAll Business…
Personally, I felt the videos were a little cheesy after watching them all…
30 Day Business Builder

The 30 Days Business Builder provides content and graphics for you to use on social media or other areas for an entire month…
Its good that BuilderAll is trying to provide resources to make it easy for affiliates to promote their product…
I haven't used this area so I can't say if the content converts well or not but I like the idea of what they are doing…
Daily Task – 365

This is another area that I haven't used but honestly it looks like a jumbled mess of different resources…
There are email swipe files, motivational quotes, video promotions, blog articles, and testimonials to choose from…
However, it doesn't look like enough content to use for a full 365 days and there isn't any direction so it leaves the affiliate figuring it out on their own…
Money Making Funnels

The Money Making Funnels area has all of the automatic funnels created by BuilderAll…
If you've set up a custom domain then you can control the domain settings here including create an email address that uses your domain…
This area is very large and offers many different types of funnels…
There are also about 20 different languages to choose from for each funnel…
Here are the different types of automatic funnels you can use…
Default Funnels
These are the main automated funnels you can use to promote various aspects of BuilderAll…
Viral Funnel – The same Leveraged Affiliate funnel as in the Quickstart area
Promo Leveraged Affiliate – An alternate funnel to use for the Leveraged Affiliate promotion
Mailingboss Funnel – This promotes Mailingboss as its own product
Builderall Business – This funnel is another way to promote the affiliate program
7 Day Free Trial – Use the power of free to promote the 7 day trial for BuilderAll
Builderall Home – Takes visitors right to the main BuilderAll homepage
Checkout Funnels
These funnels are great for driving warm leads right to the order form to buy if they have go through a 7 day trial or are familiar with BuilderAll…
Checkout US 9.90 – Send warm leads to this checkout page to buy the base level plan for BuilderAll
Checkout US 29.90 – Use this checkout page for leads that aren't interested in being an affiliate but want all of the BuilderAll tools
Checkout US 49.90 – This is the checkout page to use if you want to send people interested in the BuilderAll Business
Niche Funnels
Use these funnels to target specific high end niches…
What is cool about these funnels are that once someone signs up, the backend of BuilderAll is automatically customized with resources related to that specific niche…
Beauty Salon – Use this funnel if you want to target small businesses in the Beauty niche
Fitness US – This niche funnel is perfect for gyms or fitness related businesses
Chiropractic – Chiropractic offices are a huge money making opportunity and this niche funnel is great for them
Dentist – Ditto on huge money making opportunity
Accounting – Accounting is another niche where there is a large opportunity to get clients for BuilderAll
As of this writing, the training videos for each funnel aren't complete but they should be available in the coming months…
Your Earnings

This is probably the most important area of the BuilderAll Business area because its where you get to see how much money you're making!
The primary area at the top shows four payment statuses: On Hold, Available, Requested and Paid…
There is a button to the far right where you can do a Withdrawal Request of any money that is available…
The money will then go into the Requested status and you will be paid the following Thursday…
Its a little annoying that you have to request your money each week instead of having it automatically sent to you…
But, this is the only affiliate program I know of that doesn't have a payout threshold…
Even if you only have $2.75 in available commissions you can withdraw it…
Free money is free money right?
Also in this section is a list of all the people who have paid each month…
You can filter the list in several ways…
This includes the payment status, what tier they belong to, what BuilderAll plan they are on, and the date…
The far right column shows the status and tells you when a that commission will become available…
It usually becomes available 5 days after they pay…
I really like this format which is so much easier to see and understand than the CSV format of the ClickFunnels affiliate program…
Lead Tree

The Lead Tree area is a pretty neat concept that lets you see all of your leads and any leads they have under them…
There are a few filters including Active, Inactive, Test and those with a leads under them…
Other than this there isn't much else to use this for…
Your Leads
The Leads section is pretty straightforward and shows the total number of leads you've brought in…
You can filter the status of your leads to see who is active, in a test account or inactive…
The status of your leads is also listed in the far right column…
My personal favorite data point is the parameters column…
There is an eyeball icon in the column that you can click on to see how they became a lead…
This is very helpful if you are testing out different automatic funnels and you want to see which one is bringing in the most leads…
Finally, there is an options dropdown to the far right that allows you to export your leads to a CSV or you can add them to a list in Mailing Boss…
Message Center

The Message Center is by far my favorite new tool that has been added to the BuilderAll affiliate program…
This area allows you to broadcast a message to any of your leads…
There are a lot of different segments of leads to choose from…
What I like is that you can send the message as a notification that shows up in their BuilderAll account…
And you can send it as an email to them…
I'm still messing with this new tool to discover all of the ways I can use it…
The only negative side to using this tool is you can't see the stats…
There isn't any way of knowing if someone opened the email or read the notification…
Business Community

This area is a place where you can find free training courses other BuilderAll affiliates have created…
I like the idea of the community coming together to help other affiliates…
I haven't gone through any of these courses yet so I can't speak to the quality…
One thing I noticed is a lot of these courses aren't in English so hopefully more of those will show up…
Weekly Webinar

BuilderAll has weekly webinars that help affiliates get the most out of this program…
I've never taken the time to join one of these webinars and quite honestly I forget they even happen…
One thing that I noticed is there isn't an archive of past calls which I think would be a good idea to have available…
Pixel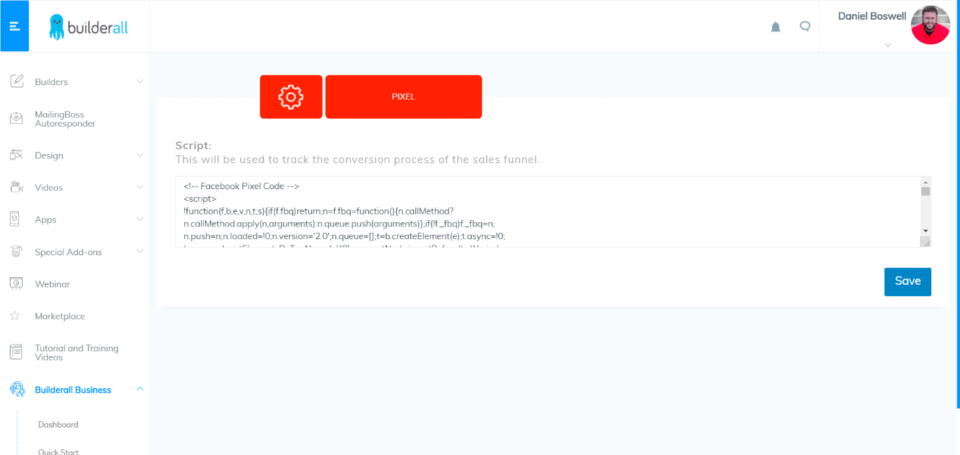 The Pixel area is where you can add your Facebook or other ad tracking pixel into the automatic funnels so that you can track conversions in your ads platform…
Tax Forms

This section is where you will go to submit your tax form so that BulderAll can pay you for commissions…
I really like that you can do it all in a form and use a digital signature…
This beats having to download a PDF, print it, sign it and send it back…
Event Calendar

The Event Calendar area gives you information on upcoming affiliate meetings and other happenings…
It mainly shows that new content will be added to the 365 daily task area…
So, perhaps after the year is up there will be enough content to use…
Otherwise, I didn't find anything particularly useful that would cause me to keep checking it on a regular basis…
Elements

This is another new area added after the relaunch…
There are a ton of resources to find including:
BuilderAll logos and branding information
BuilderAll approved stock photos to use in promotions
Social Media banners
Powerpoint presentations for live events
Business Cards
Flyers
Email Sequences
Drop A Message
This is a box that shows who your sponsor is and gives you the ability to drop them a message…
So you can use the drop a message button here or in the Overview section…
I like that BuilderAll has made it easy to reach out to your sponsor for help…
One final observation about this area…
The sections could be organized in a more logical way…
For instance, Quickstart, Money Making Funnels and Pixel should all be grouped together…
I also feel that the Earnings and Leads areas should be closer to the top…
These are two of the most important areas to affiliates and should be easy to see right away…
Now that I've covered what is inside the BuilderAll affiliate area here is what I like and dislike about it…
BuilderAll Dream Car
I hesitate to even mention this but its a bonus incentive of the affiliate program…
BuilderAll will pay for your dream car after you've signed up 100 active users…
They pay $500 per month if you have 100+ users and $1,000 a month for 200+ users…
The active users have to be on the $29.90 / month plan or the $49.90 / month plan to qualify…
So, those people who only join the $9.90 / month plan won't count…
What I Love and Don't Love About BuilderAll's Affiliate Program
Pros
What I Love
100% commissions available within 5 days of a sale
30% commissions recurring monthly
Second tier of 30% commissions from affiliates under you
No payout thresholds unlike other affiliate programs
Easy to understand Earnings area
Lots of automatic funnels for affiliates to use
Plenty of resources to help promote the platform
The Message Center which allows easy communication with leads
Easy to use tax forms that don't require a physical signature
Direct access to your BuilderAll Sponsor
Weekly webinars for affiliates that need it
Cons
What I Don't Love
Lower commission rates due to low cost of products
There aren't other BuilderAll products to promote besides Mailing Boss
The BuilderAll Business area could be organized with better logic
Affiliate resources seem scattered and unorganized
Some areas like Event Calendar don't seem very helpful
My Own Experience With The BuilderAll Affiliate Program
My experience using this program has been good and bad…
When I first started out there was a 2-Tier License that was a one time fee of $97…
After buying into the program it took me about 2 weeks before I recouped my initial investment…
However, shortly after that, BuilderAll ran into some issues with bugs in the software…
So I went the rest of 2017 not promoting the software until they got it more stable…
During that time the sign ups that I had were enough to cover the cost of my subscription…
About the only thing I did is write my BuilderAll Review to see if it would generate some income…
In April of 2018, I developed my own affiliate marketing strategy and decided to start pushing BuilderAll again…
I have averaged around $125 per month in commissions between new sign ups and recurring commissions…
That average is moving closer to $200 per month a my recurring commissions continue to grow…
I broke through my first $1,000 in BuilderAll commissions just 3 months after starting up again…
So, while my results may not seem impressive, I've already nearly 4x my return each month…
The momentum is moving and I'm looking towards greater results in the coming months…
But, the question on your mind is…
Can You Make Money Using This Program?
There is a lot of opportunity to make money promoting the BuilderAll's affiliate program…
However, as more and more affiliates join the program and start regurgitating the same marketing message…
It will become more difficult to bring people in…
So the important thing is to come up with your own unique message…
But, if you don't want to do that I've got some good news…
I've already done it for you!
** MY BONUS **
If you're interested in selling BuilderAll as a business opportunity here's what I have for you…
I said before that I have created my own affiliate system to promote BuilderAll…
I call it the No Paycheck Needed System Of Income…
The NPN System of Income focuses on promoting the $49.90 / month BuilderAll Business Pro plan…
When you sign up for the BuilderAll Business Pro Plan I will send you…
A done-for-you copy of my funnel
6-day email follow-up sequence
6 step training so that you can set up your own "No Paycheck Neeeded" System Of Income
Personal access to me for assistance
This alone will save you hours of time figuring out how to make money using BuilderAll…
Even if all you did was make 1 sales a month you would at least make your investment back each month…
But, you would also be building a small system of income with the 30% recurring commissions…
That is worst case scenario…
Get Started With The No Paycheck Needed System Of Income
Is The BuilderAll Affiliate Program Right For You?
I believe this program is fantatic, but its not for everyone…
This is one of the easiest programs for new people just getting into affiliate marketing…
The 100% commissions and 5 day turn around on sales means that new affiliates can recoup their investment fast…
It also means they can start making money faster and reinvest it into growing a real affiliate business…
BuilderAll's affiliate program is also a nice additional stream of income for experienced affiliate marketers…
It won't be as big of a money maker as ClickFunnels but the lower price point makes it an easier sale…
Someone with a good size responsive email list could make a lot of money fast…
However, this program isn't going to work if you can't invest $49.90 a month or you want a free solution for making money…
If you aren't willing to invest in the products you want to promote then no one is going to believe you're legit…
Wrapping It Up
The BuilderAll affiliate program has enough good things going for it…
Like any affiliate program it's not the perfect solution and there is work involved to be successful…
If you believe this program is a good fit for you then sign up here…
Once you've paid I'll send my bonus funnel and email sequence to you…
If you have any questions, please leave me a comment!