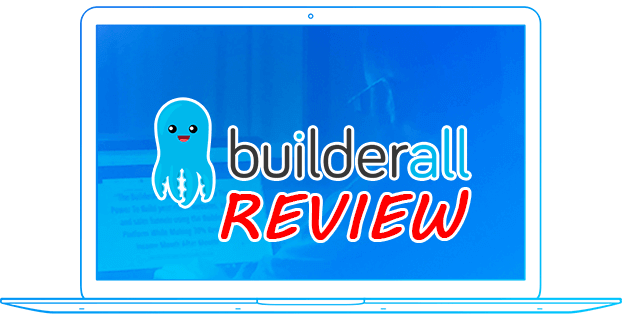 Note: On July 27, 2018 BuilderAll relaunched their software platform. This BuilderAll review has been updated to reflect those changes.
Since I first started as a professional web designer in 2005, technology has come a long way.
It used to be that guys like me had to do everything for a website, including creating the design, use HTML or PHP to build the web pages, and create special hacks to pull off a cool looking effect.
Today's technology is allowing business owners to take full control of their websites to do it all themselves.

Multiple Ways To Do It Yourself
These days, there are multiple options to build your own website.
One of the most popular options for building your website is using WordPress. There is a lot of themes available that will give you the flexibility to build a website.
Another option is to find a do-it-yourself page builder. Some of the more popular options are Wix, Squarespace, and GoDaddy's Website Builder.
There is also a growing popularity for full software suites like LeadPages or ClickFunnels that provide the tools to build websites, sales funnels, landing pages, and all of the marketing pieces.
BuilderAll (BA) is part of that last group, and this review will dive deep into all of the different options available within the software.
My Personal Experience With BuilderAll
Since there is less of a need for web designers these days, I've adopted an "if you can't beat them, join them" mentality.
I've experimented with several page builders, and before I was introduced to BA, I primarily used ClickFunnels and WordPress.
However, I discovered that both platforms were lacking as a complete system by themselves.
ClickFunnels has an amazing page editor that anyone can learn very quickly, but it is designed to build sales funnels.
So, while it can be used for a website it lacks some of the essentials needed such as the ability to really optimize the pages for search engines, create ongoing content, and lacks the ability to have a true website navigation.
WordPress is awesome for creating a blog and for having a lot of flexible themes and plugins, but the ability to create your sales funnel is missing and requires hacking together different services (like ClickFunnels) to really sell products and services online.
I recently wrote about the need for business owners to have both a website and sales funnel in order have a complete online presence.
But, it can become costly to have to maintain multiple platforms that aren't created to work in unison together.
So, when I learned about BuilderAll, I became excited at the possibilities it had to bridge that gap.
I've been using BA since August 2017 and I feel I'm able to give an honest review.
What You'll Learn In My BuilderAll Review
What is BuilderAll and why should you care
Everything you get with the system
BuilderAll pros and cons
How much it costs
How it works
A detailed overview of BuilderAll
What Is BuilderAll?
BuilderAll is an unlimited all-in-one Smart Website building platform that launched in 2017 to the US market.
The company originally started in South America 5+ years ago by Erick Salgado to serve the needs of his parent company,"Best In My Neighborhood".
Best In My Neighborhood is a franchise-based local directory company, that serves its users by easily finding the best services provided in local neighborhoods.
Erick discovered that many of his franchise clients had businesses lacking a good online presence.
However, his search for a working solution failed as what he found didn't provide a full list of tools, completely under one umbrella in an easy-to-use, affordable platform.
So Erick set out to build an all-in-one digital marketing platform and called it BuilderAll.
This system provides individuals and businesses with the ability to have beautiful websites, blogs, and sales funnels within one platform.
Here is a quick 48 second video overview.
What You Get With BuilderAll
Here is a list of the main features of the BA platform:
Unlimited Domains and Subdomains
Autoresponder with a 10,000 Leads
Unlimited Bandwidth
10GB of Disk Storage
Landing Pages
Sales Funnels
APP Builder
Video Builder
Floating Video
Click/Heat Map Tool
Facebook Integration APPs
Facebook Inbox Answer
Share Locker
E-Learning
Presentation Builder
SEO Report Tool
Browser Notification
Full Webinar Platform
Market Place
Hundreds of Tutorials + Forum Support
BuilderAll Business Opportunity
Pros And Cons
Pros
Websites built with the pixel-perfect drag and drop editor ARE NOW mobile responsive!
BuilderAll also offers another responsive builder and its very flexible like ClickFunnels
You have the ability to create an SEO friendly website, blog or sales funnel within the same platform
You can have as many domains in your account as you need and connecting a domain is quick and easy
Mailing Boss is a built-in email marketing system that gives you up to 10,000 contacts at no extra charge
There is built-in SSL support for all websites
You can create graphics, presentations, and videos for your website
There are hundreds of starter templates that are easy to customize
You can track visitor activity with heatmaps and track website conversions
Create A/B split tests of web pages
You can build your own apps on the platform
There are about 26 different marketing tools to use for your business
The support team is quick and responsive
The BuilderAll Facebook Community is amazingly helpful and supportive of each other
BuilderAll is committed to excellence and their recent interface updates and new add ons prove they mean business!
Cons
The drag and drop editor sometimes has glitches
While you can create business emails for your domain, the email system RainLoop is very basic
The blog feature is simple and doesn't have a lot of options to customize it
The web forms are a bit clunky to use and there are only a hand full of 3rd-Party integrations (more integrations are being added over time)
Just like Wix, Squarespace and ClickFunnels, you can't transfer your website to another platform if you decide to quit using BuilderAll
How Much Does It Cost?
According to the BuilderAll pricing page, the current pricing structure is broken down into 3 levels:
$9.90 per month for a single domain and several features but no Mailing Boss.
$29.90 per month with unlimited domains and all the features above.
$49.90 per month which gives you all features and the business opportunity.
There is also annual plans which will save you money over the monthly option.
So, how does this price compare to other page building software or even a custom WordPress site?
A recent article from WP Beginner states that just having a custom WordPress theme can cost up to $5,000 and total around $15,000 for the custom website.
In comparison, the ClickFunnels start-up plan is $97 per month and the full suite including their email marketing system and unlimited funnels costs $297 per month.
Other services like Wix or Squarespace are around $25 per month to unlock all of the features they offer, but you only get one domain with your account.
In my opinion, BuilderAll has the best price to value ratio out of any service out there.
How It Works

The primary drag and drop editor uses what they call pixel-perfect technology. This allows the user to take any element and drag it to any spot on the page and that is where it will be on the live website.
The editor takes a different approach towards building out a webpage by giving the user three different views to work in: desktop, tablet, and mobile.
This requires an adjustment in thinking because most editors are responsive and automatically adjust the elements based on what device is used to view the website.
Working in three different views may seem like extra work, but the benefit is that you can easily make your website or sales funnel look exactly how you want on tablet and mobile phones.
With the latest updates to the pixel perfect editor your website is mobile responsive.
The other option is the new Drag n Drop Responsive Builder which uses the cool features of the main builder but is responsive.
Up until the changes just made to the Pixel Perfect editor, I would have recommended this editor because it's responsive.
For beginners, there is a helpful on-screen guide that takes you through each part of the builder.
The main differences with using this editor is that everything is created using rows and columns which respond to the size of the device.
My favorite part of this responsive builder is that you get a lot of control over each row and column.
For instance, if you set up a three column row and realize you need to add a fourth column, its as simple as right-clicking and adding a new column.
You can also control the width of each column by setting a number from 1 – 12.
So the maximum number of columns per row would be twelve.
This is familiar to me because I've used the popular Bootstrap Framework for building websites in the past.
One thing that is a little irritating is you have to add an element grid to each column and you have to uncheck the Fixed Size checkbox in the settings so that its responsive.
Otherwise, all of your text and images will pile up on top of each other in mobile view.
I can tell you that its a lot easier to grasp the mechanics of the new Drag n Drop Responsive Builder.
plus, you only have to build your web page once.
There are a few glitches at this point so it still needs some polishing.
In particular, whenever I would duplicate a row, all of the content would be duplicated four times.
I personally like this editor better because it feels more like the ClickFunnels editor which I'm used to.
However, either editor is great and mobile responsive.
Detailed Look Into The Admin Area

This is an overview of the admin area where you will be managing your websites and other tools. I haven't used ever tool so some areas will give only basic information.
With the new July 2018 relaunch, the admin area and every tool got a nice facelift. The new look and layout is much easier to navigate.
Builders

The first area is where all of the website builders are and where you will be spending the majority of your time inside BA. There are 5 main areas:
Drag n Drop Pixel-Perfect Builder
This is BuilderAll's flagship website builder that gives you the ability to create pixel perfect responsive websites.
When you visit this area you will see any websites, funnels or membership sites that you've created.
You will also be able to start a new website project and will be presented with several website templates broken down by industry or niche.
The ability to control how your website looks on each device makes this the only editor online that gives total control.
Now that this builder is responsive your website will look fantastic on any device.
Drag n Drop Responsive Builder
The responsive drag n drop builder is brand new as of February 2018.
The responsive builder works off of rows and columns, similar to the ClickFunnels editor.
However, one feature that is better than ClickFunnels is you can change how many columns are in a row.
This saves time and gives a lot of flexibility.
It also gives complete freedom to move elements anywhere just like the pixel perfect builder.
Mobile First Drag n Drop Builder
I haven't been able to invest the time to learn this new feature yet, but its next on my list.
I will update this section once I have more information.
Responsive Blog Builder
The Responsive blog Builder gives you the ability to create a blog as your main website.
From my experience using it, this builder operates like a WordPress theme that gives you a bunch of options to adjust.
Inside of the main builders there is an option to add a responsive blog to your website so I'm not sure if this will remain an option much longer.
App Builder
The Apps section opens a new tab and takes you to the App creation area.
I've personally not used this feature yet but I plan to and will update this section at that time.
Mailing Boss Autoresponder (Formerly Email Marketing and Automation)
The email marketing system inside of BuilderAll is Mailing Boss. When you go to this section, it opens a new tab to the Mailing Boss welcome screen.
The whole interface received a new layout and some visual flare recently.
When you visit Mailing Boss for the first time, it directs you through a series of steps to get your first email list set up and to add all of your appropriate contact information for anti-spam purposes.
Once you've set up your first list, you will go to the main dashboard.
There are 4 main areas of Mailing Boss at the top:
Subscribers
Lists
Campaigns
Workflow
The main dashboard shows the newest list you created, lets you create a new list, or create a new campaign.
Navigating Mailing Boss is confusing at first though it is easier than before.
There is a full menu that is accessible at the top left.
Most people won't need all of the features but it is nice the have multiple ways to get around.
It's also nice to have a generous limit of 10,000 subscribers.
Most email platforms charge hundreds of dollars to have a list of 10k subscribers.
If you have a list larger than 10k, you can upgrade for more subscribers in the full menu.
Building a campaign is fairly easy though I'm not thrilled with the responsive email builder.
It struggles with clunkiness compared to other email campaign builders on the market.
One cool feature is email sequences can be shared with other Mailing Boss accounts!
So if you build an email series with 10 emails and feel like sharing it then you can!
My biggest gripe with Mailing Boss has to be email deliverability.
Gmail accounts in particular are bad about marking Mailing Boss emails as spam.
There is an additional add on called Inboxpath that can be purchased and integrated with Mailing Boss.
However, I haven't invested in this yet so I can't say if it resolves the Gmail issue or not.
Overall, Mailing Boss is a very good email marketing platform, especially considering its part of the larger BuilderAll package.
Also, with the relaunch in July 2018 Mailing Boss can now be purchased separately as it's own product.
It's currently $50 for a lifetime subscription which is a killer deal.
If you want to take advantage of this offer click here.
Design

As a web designer, I primarily use Photoshop to create and edit my graphics. I also own PowerPoint but I don't really use it. So for me, this section of BA doesn't offer much, however, for the average website owner I can see a lot of value.
Design Studio
The design studio allows you to add your graphics to a multitude of mockups. There are computer screen mockups, business card mockups, ebook mockups to name a few. I found the variety to be very nice. For anyone who doesn't already own a professional design studio like Photoshop, they will find this refreshingly easy to use.
Presentation Builder
The presentation builder works like an online version of PowerPoint. You can add text, images, videos, websites, and shapes to your slides. The interface seems simple enough, though I haven't had a need yet to use this tool.
Photo Studio
This is a new tool that was added during the relaunch.
I haven't had time to use it yet but it looks like you can do some cool rotating 3D graphics.
Videos

Video has become more critical for online credibility and as the preferred media choice for most visitors to a website. The videos section provides an animated videos tool and floating videos tool to aid in providing more value to your website visitors.
Animated Videos
The animated video tool has a robust interface that reminds me of using a professional video editing suite. There are several templates that new users can start with or you can create a new animated video from scratch.
Floating Videos (Flash & HTML)
If you've ever visited a website where a person walks out onto the screen and talks to you, that is a floating video. This tool allows you to create a video of yourself that you can put on your website to achieve the same effect. I would recommend using the HTML version, as most newer browsers automatically disable Flash files.
Apps

Don't confuse the apps section with the app builder. These are pre-built apps that you can use with your website to improve user experience and your ability to market to visitors.
Browser Notification
The browser notifications app allows you to send messages to visitors through their browsers even if they aren't on your website.
SEO On page Report Tool
The SEO on page report tool allows you to measure how strong your SEO optimization is for a particular keyword. The tool produces a list of items to optimize your web pages for the keywords you're targeting.
Click Map
The click map tool provides a way for you to track the clicks from users on your website. This data helps you optimize your website to maximize your user's experience navigating your website. The data displays as either a heat map or click map.
Just create a campaign for your website, copy the code they give you and paste it into page settings inside the editor.
Chat Reviews (Formerly Reviews Exchange)
The chat reviews allows you to create a snippet of code to add to your website where users can leave a review and you can respond.
Autopost
Autopost is currently waiting for approval from Facebook.
Once its available I will update this area.
Facebook Chatbot (Formerly Facebook Inbox Answer)
This app directly integrates with Facebook and functions similarly to Many Chat.
I haven't worked with this tool but if it is a replacement for Many Chat then this is going to be a huge game-changer!
Share Locker
The Share Locker tool keeps any content locked away until it is shared. This is a popular marketing tactic that increases the viral nature of your content.
E-Learning
The E-Learning app lets you create your own courses similar to Teachable.com.
You can create tests for students and add teachers for your course.
You can even share your courses with the BA community!
Script Generator
While not as feature rich as Funnel Scripts, this built in app will help generate copy for your website.
It generates scripts for your sales funnels, websites, video sales letters, webinars and even a client avatar.
Social Proof
When activating this app, it tells visitors about those people who have bought your products or registered for your membership area.
This is immediate social proof that people are buying your products and services.
Roulette
The Roulette app gives you the ability to create a digital roulette wheel that can give your users different prizes.
This is a great tool to use as an exit pop up for people leaving your website so you can give them a reason to come back!
Special Add-Ons
This area offers additional products for BuilderAll users that will enhance your account.
There's the Inboxpath add-on for Mailing Boss to improve email deliverability and SoTellUs Promo which is a website reviews service.
Webinars
This tool will help you create webinars to promote your products or services.
The best example of this tool in action is the launch webinar that the BuilderAll team did on July 27, 2018.
You can watch the launch webinar by clicking here.
The webinar is almost 3 hours long and goes into more details about all of the new stuff in digital marketing platform!
Marketplace

This is a brand new area released during the July 2018 relaunch and is a full-fledged marketplace for buyers and sellers!
Any product sold using BuilderAll can be sold inside of the marketplace.
There are also complete funnels, e-learning courses and website templates available for sale.
This area will become a huge place for people in the BA community!
Tutorial and Training Videos (Formerly Knowledge Base)
The tutorials and training videos have been combined into one area now.
Tutorials

The tutorial videos section is where you go to learn anything you want about BuilderAll. There are over 400 tutorial videos that teach you how to use all of the tools inside.
You can even request a custom tutorial from the support team!
Training

The training video section shows how to master BuilderAll in a short period of time.
Learn how to set up an entire website, sales funnel, a magic funnel and various checkout methods.
BuilderAll Business (Formerly 2-Tier Commercial License)
I have written a separate BuilderAll affiliate program review that goes in depth on everything about the program.
Tickets

The new support ticket system is a very helpful feature and I'm glad they have added it.
If you've every used a support ticket system then this will be familiar to you.
Whenever you can't find an answer in the Support section then you have the opportunity to submit a ticket.
I've had a mixed experience with response times and it really depends on how backed up they are.
The longest I've had to wait is about three days and the shortest response time is about two hours.
The original support used a chat feature but with their rapid growth I understand why they changed to this ticket system.
Earnings Calculator

This calculator used to be in the business section but it makes sense they moved it out.
For users on the cheaper plans that are curious about how much they could earn as an affiliate this calculator will help.
It gives a clear estimate of what you can expect to earn as a BuilderAll affiliate.
Certified Partners

If you don't want to deal with setting everything up yourself, there is a certified partners network of BuilderAll experts.
These people have invested considerable time in mastering the BuilderAll platform and can save you time on getting your websites or funnels launched.
Each consultant charges their own rates so you will have to get quotes from several and decide which one has the most value.
Support

The Support section is the area of your admin panel to go if you encounter an issue using the system. Choose the category related to your issue and you will be see a series of answers.
If none of the answers meet your needs you can open a support ticket.
Personally, I believe they should move the support section right beneath the Support Ticket area so it stays together.
Additional Benefits
Outside of the large suite of tools available, there are some other benefits for members.
Facebook Community

Without a doubt, the BuilderAll Facebook community is one of the best benefits to users. There are several highly successful entreprenuers, web designers, and marketers that share massive value to the community.
If you have a question or a problem with BA, the Facebook community should be your first stop. You will likely find another user who has the answer you are looking for.
Combined with the Support area you should get the answers you need.
BuilderAll Review Conclusion
Overall, I believe BuilderAll is a strong platform that will continue to get better as time goes on.
I'm a firm believer in investing in the tools that will help grow your online presence.
Cheap website tools usually provide cheap looking results, but with BA I see they are making a top quality product.
This system will be another option to use on my client projects moving forward.
I don't expect the price will remain low for much longer.
If you found this BuilderAll review helpful, sign up for while the price is still this good!